Nuages du Desert is a jazz band playing in Southwest Colorado. Featuring a rotating cast of players, the band focuses on mid 20th century hot club jazz, blues, and anything which might be able to evoke that feeling of sitting in a smoky pre-war nightclub grooving to the jazz manouche.
John Reeve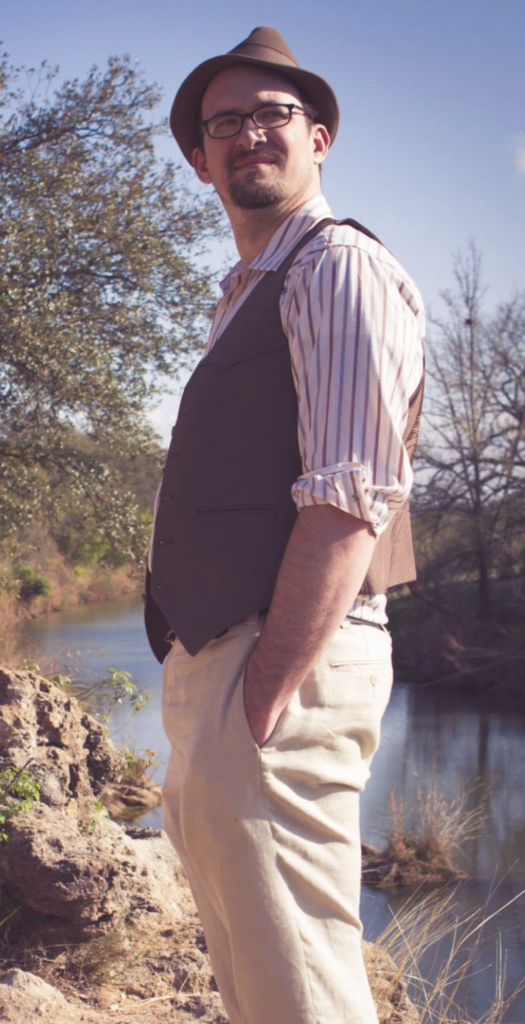 Multi-instrumentalist John Reeve is usually holding down piano. While he's involved with several Durango-area bands in various capacities, here you'll find him beating the ivories and singing. He's often found backing up bands on upright bass or noodling on his pedal steel guitar. You might even occasionally find him busking on an accordion.
A native of Texas, he comes out of a Western swing tradition. In Nuages du Desert, John bring a deep love of old jazz, a passion for improvisation, and drive to engage the audience. Primarily focused on the jazz and blues of the 20s-40s, he has a broad songbook that has tunes which can satisfy about any audience.
The son of a flute player and trombonist, he's had a love of jazz from an early age. Raised in a home with an early modular synthesizer, John still works with electronic compositions and has a passion for synthesis and music technology. A life-long musician, John has played in dozens of ensembles from punk rock to polka bands.
As a self-taught pianist, he'd so gone farther than he thought he might. Starting out doing solo piano gigs in the Texas hill country, he eventually took up playing upright bass in the Lone Star Swing Orchestra and was eventually handling the piano for the 20-piece ensemble.
Nuages du Desert is the most recent outgrowth of a passion for improvisational music in all its forms.
Don Cooke
Don Cooke grew up in Ithaca NY, and has been a musician since playing guitar in a high school rock n roll band (a long time ago). He added fiddle playing as a 20-something and began to play with bluegrass bands in New Mexico, most notably The Big River Boys out of Albuquerque. He plays on one of the rarest albums in bluegrass "Live at the Territorial House" recorded in 1978 (still available if you want one). In the 1980s he lived for awhile on the East Coast and played fiddle with Eastbound Freight, a Long Island based bluegrass band. Later, he joined an early acoustic jam band in upstate NY, "Burnt Toast". Returning to the west in the 1990s he played guitar, mandolin and fiddle with a number of bands in Durango, including "Down the Road", "Missionary Ridge", and the "Lost Souls". He has been a great admirer of the work of Stephane Grappelli for many years, and has all the albums (on vinyl) of the Djangology series. Many have the grooves worn out from repeated listening going back many years. When the COVID shutdown began, he teamed up with keyboard player John Reeve, began a collaboration in jazz, and rekindled his interest in the work of the Hot Club of France. He revisited those worn out grooves, except now with the help of YouTube. Don has transitioned from bluegrass and country fiddling to branch out into "horn keys", Eflat, Bflat, F, Cm etc. It has been a great adventure!
Don plays his favorite fiddle "Big Red", which he has owned since the 1990s. This was purchased from his friends in Berkeley CA, Laurie Lewis and Tom Rozum. Big Red was built by Honore Derazey of Mirecourt, France in 1831. Don really enjoys playing jazz and swing violin, and maybe even a bit of western swing and country with the "Nuages du Desert" shows.